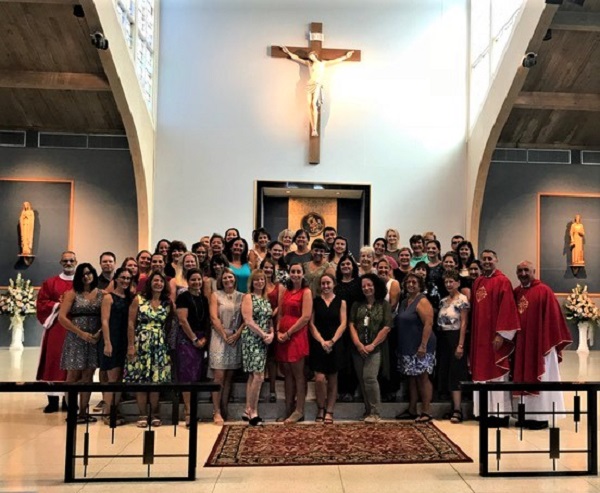 St. Kevin and St. Rose of Lima schools ready for new school year
August 31—The combined faculties of St. Kevin and St. Rose of Lima schools attended Mass last Thursday morning in preparation for the beginning of the school year on Tuesday, Sept. 4.   Mass was concelebrated by Fr. Bob and Fr. Matt Glover, pastor of St. Rose of Lima & Clement Parish with St. Kevin's Deacon John Fulton assisting.  Teachers and administrators met for professional day meetings and a short retreat held in Fr. O'Hara Hall.
---
Diocese launches Grateful for God's Providence Capital Campaign
All parishes in the Diocese of Providence are joining together for the Grateful for God's Providence Capital Campaign.  As we approach the 150th anniversary of our diocese, this historic campaign will ensure that we are able to continue our mission for years to come.
The campaign seeks to raise $50 million over the next four years to prepare our faith community for the future.  At its heart, this campaign is about supporting our future by focusing on our parishes, priests, Catholic school tuition assistance, Sts. Peter and Paul Cathedral, and Catholic charities and social services.
Every parish will retain 40% of each dollar raised in its parish's campaign effort to be used for its own local needs.  In the coming weeks our Campaign Leadership Team will be providing more information about the campaign and details about each of its purposes.  Their goal is to make sure that every parishioner knows what this campaign is about and how we are being called to participate.
To learn more, visit the diocese's  Grateful for God's Providence Capital Campaign page.
---
Renting our parish halls
Hold your autumn and holiday events and parties at church!  Both St. Kevin's Fr. O'Hara Hall and St. Benedict's Fr. Lawless Hall are equipped to handle both small gatherings to large parties and are available for rent to both parishioners and non-parishioners.  Fr. O'Hara Hall can seat 100 and has 14 rectangular and 15 round tables while Fr. Lawless Hall can accommodate up to 300 people.
Arrangements can be made by calling the parish offices.  Or, click here for more information about reserving a date, rental fees, and hall set up.