Ms. Christine Reilly, CCD Coordinator
ccddirector@saintkevinri.org
---
Religious Education 2020-21
Families may pickup your Faith Formation class materials on Sunday, Oct. 4  from 9 a.m. to noon.  Please drive up to garage doors located at the back of St. Kevin School.
We have gone paperless in order to streamline the registration process for our families and online applications are now being accepted for the 2020-21 school year.  However, due to the COVID-19 pandemic we have decided for the safety of our  families to move forward with homeschooling  for all grades.  Note: Grade 2 students will be homeschooled but are also required to attend two in-person classes (see calendar below for more information).
Online Religious Education Registration
---
REGISTRATION and FEES
$20 per child*
$2 online registration fee
Students in sacramental grades 2 and 9 will pay an additional $5
*Please note:  A $5 late fee will be charged if registration is submitted after Sept. 30
Religious education fees were reduced by 50% this year.  This money is used to cover some of the expenses for the materials being provided to families.  If there is financial hardship and payment assistance is needed, please contact Christine Reilly at ccddirector@saintkevinri.org.  If fees are waived you will be provided with a discount code before you proceed with online religious education registration.
---
FAMILIES MUST BE REGISTERED AT ST KEVIN'S OR ST. BENEDICT'S
Per Diocese of Providence regulations, all families must be registered at either St. Kevin's or St. Benedict's before children can attend religious education classes at St. Kevin's.  Parish personnel will confirm all registrations as Religious Education applications are submitted online and received by the office.  Please register with the appropriate parish before completing your online religious education application.
If you are new to St. Kevin's and need to register:  download, complete, and return  St. Kevin Parish Registration Form (pdf) to the church office.  Hours are Monday–Friday from 9 a.m. to 2 p.m. and Sunday 9 a.m. to noon.
To register at St. Benedict's, call 737-9492 during office hours on Wednesdays from 8 a.m. to 2 p.m.
---
ALL STUDENTS' BAPTISM CERTIFICATES MUST BE ON FILE AT ST. KEVIN'S
If your child is new to the program, it is a requirement of the Diocesan Office of Education and Compliance that we have a baptismal certificate on file before your child can attend classes. Baptismal forms can be uploaded during the registration process or faxed to St. Kevin's at 401-732-2832 Attn: Christine Reilly.
If your child was baptized at another parish, please contact that parish office and request that a copy of the baptismal certificate be mailed to 333 Sandy Lane, Attn: Christine Reilly; or faxed to St. Kevin's at 401-732-2832,  Attn: Christine Reilly.  Certificates can also be dropped off at the parish office during business hours Monday-Friday from 9 a.m. to 2 p.m. and Sundays from 9 a.m. to noon.
---
CALENDAR
All grades
Sunday, Oct. 4:  Pick up books and materials between 9 a.m. and noon at the St. Kevin CCD door
Grade 2 only
Sat., Dec. 5:  In-person class from 9–10 a.m. in Fr. O'Hara Hall
Sat., Feb. 13, 2021: Parent meeting at 7 p.m. in Fr. O'Hara Hall
Sat., March 6, 2021:  In-person class from 9–10 a.m. in Fr. O'Hara Hall
Sat., March 20, 2021:  First Reconciliation at 9 a.m
Fri., April 30, 2021:  First Communion rehearsal at 7 p.m.
Sat., May 1, 2021:  First Communion at 10 a.m.
---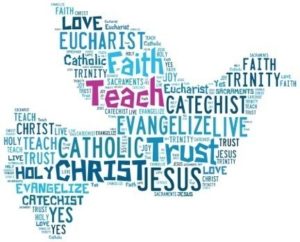 Dear Parents,
When your child was baptized you promised to raise him or her as a Catholic.  Perhaps some of you believe that bringing your child to religious education classes fulfills this obligation. In part, it does. The real center of our faith, however, is the Eucharist.  Simply making sure that your child attends Faith Formation class each week does not fulfill the promise you made when he or she was baptized.  Please understand that religious education is only the introduction to a relationship with God, and attending Mass on weekends and holy days is most important.We all have our priorities. Children should be offered every opportunity to learn about our Catholic faith when they are growing up.  The religious formation of children is the most valuable gift they can receive and that means celebrating the Eucharist together as a parish as well as ensuring their participation in religious education classes.Connection to God through parish worship offers support and hope.  It will make a difference in the kind of person a child becomes.  Yes, we want our children to be successful. More than that, we want them to be happy, loving, and surrounded by good people who support them.  We want them to rely on God when times get tough, as times do for all of us.  In about 20 hours a year, religious education classes can not provide your children with a relationship with God. Only religious education and practice at home, family prayer and devotions, weekly attendance at Mass, and involvement in the life and ministries of the parish can truly help deepen that relationship.The St. Kevin Religious Education program serves students in grades 1 through 8.  Both First Reconciliation and First Communion are made in Grade 2.  Children are required to attend Religious Education every year from grades 1 through 9, unless they are enrolled in a Catholic school.  Students enrolled in Catholic schools ONLY attend religious education classes in grade 9 to prepare for the Sacrament of Confirmation.
Sincerely,
Christine Reilly
Director of Religious Education
---
Diocesan Requirements for Religious Education
Families must be registered at either St. Kevin's or St. Benedict's in order for children to attend religious education classes.
---