| | |
| --- | --- |
| | It's a new look! Take a glance at Fr. O'Hara Hall and the new floor and refurbished paint job. Our thanks to all of you in our collection for parish Maintenance and Repairs that allows us to fund these projects and keep our facilities in great shape. Our thanks to Diane at Ruggieri's Flooring for the new and classy look and to the Bove family at Warwick Painting for the fresh paint on all the doors and trim as well as the storage room area. We are ready to get the year going with our many parish events. let the fun begin! |
PASTOR'S CORNER:  ALLELUIA … HE IS RISEN!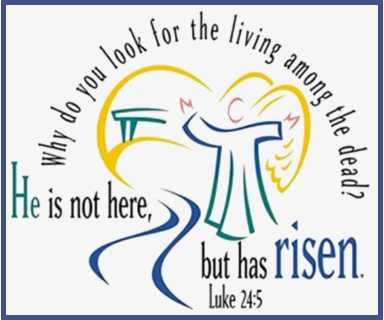 May 1—The empty tomb and the startled disciples say it all. The One who was slain lives again and lives forever. This weekend after 40 days of Lenten sacrifice, prayer and charity we celebrate with joy the event that changed all of history—the resurrection of Jesus of Nazareth, the carpenter turned preacher turned Savior. From Ash Wednesday until this weekend, we have celebrated our faith with vigor. Many thanks to those who have made all our celebrations occasions of faith. A special note of thanks to Bryan and Patti Lou; and Paul and Kelly for providing such beautiful music this weekend and throughout Lent. Of course, a special note goes to both our adult and children's choirs that last weekend and this weekend lifted our hearts to the Risen Savior. Our gratitude to all of you for your generosity, as usual, to last weekend's Rice Bowl collection which assists the poor and needy around the globe, and also for this weekend's Easter collection which is added to our Catholic Charity amount. We are very close to our goal of $75,500 and with your kind assistance we can reach—and exceed—this goal that helps our Diocese tend to the poor and needy right here in Rhode Island. If you have not made your gift or pledge just grab an envelope at the doors of the church and add your gift to this historic and generous amount.  The beauty of our church for the Easter season is the result of the hard work of so many on our decorating committee and we thank them, and also Ray Hattoy and Hattoy Nurseries, for the beautiful flowers that grace our sanctuary. Your generosity to the Easter flower collection made it all happen. Those envelopes with the names of your loved ones are by the Risen Christ shrine and will be remembered at all of our Masses this entire Easter Season. May they rest in peace and be forever with the Risen Lord of life. Now the 40 days of Easter begins … Alleluia!
God bless and have a great Easter week.  —Fr. Bob Marciano
---
may 1—Where there's smoke there's fire. Last Thursday [April 21] night there were both in the kitchen of Fr. O'Hara Hall as I received a call from the Warwick Fire Department that the church fire alarms had gone off. Warwick's bravest came quickly to discover that an accidental fire had ignited on the stove to set off the fire alarms and the flames were extinguished by the automatic system above the stove. I am glad to report that no one was injured and the quick action of our fire department and the state fire marshal made sure that the building was safe. The smoke and fire damage is serious and the kitchen and our bingo will be closed for a few months. I am glad to report that there was just minimal smoke damage to the hall. Catholic Mutual Insurance covers the loss.
Fr. Bob Marciano, Blessing of the Fleet Sat., June 18 Harbor Lights Docks C and D