---

---

Related news
'Rhode Island's 9/11': Fr. Marciano reflects on Station fire 20 years later, from WPRI 12 News on WPRI.com
In Memoriam: Victims of the Station Nightclub fire, photo gallery from WPRI 12 News on WPRI.com
How you can help those affected by the Station Nightclub fire, from WPRI 12 News on WPRI.com
'You never forget': Station fire victims, survivors honored at memorial Mass, from WPRI 12 News on WPRI.com
Pastor's Column

—With the arrival of summer this column takes a short break.  Have a great summer: relax, have fun, and stay safe!  God bless.   —Father Bob Marciano
Baby Shower for RI Right to Life
The Ladies of St. Kevin will be having a Baby Shower on
Sunday, June 25. The Right to Life serves over 300 mothers every month with help to ease their burden with material assistance and friendship. The new mothers are given newborn packages. Each package contains onesies (sleep and play), T-shirts, receiving blankets, blanket, sweater and hat, diapers, washcloths, shampoo, baby soap, lotion, and wipes. Please bring your unwrapped gift on Sunday, June 25 after the 8 and 10 a.m. Masses  to the parish hall. You are invited to stay and enjoy coffee, juice, and donuts.

Month of prayer for essential workers


The Diocesan Office of Pastoral Care for Healthcare Facilities is celebrating  June as a month of Prayer and Thanksgiving in special recognition of all essential workers including healthcare professionals, first responders, clergy,  educators, community and social workers, and those in the service industry, the National Guard, and all who keep us going and safe during difficult times.  Learn more at Diocese of Providence  Essential Workers
Download: Prayer for Essential Workers  and
Prayer Card for Essential Workers (color)

 

 

Update your parish records


Have you moved or changed you phone number? Did you get married or change your email? Please call the parish office to update your information. Often the church needs to get in touch with parishioners and outdated information makes this process very difficult. The parish office is open M-F from 9 a.m. to 2 p.m. and Sundays from 9 a.m. to noon. Call or stop by to make sure we have all your current information.

Class of 2022-23 Confirmation classes set


The date has been set for the summer Confirmation program. Deacon Greg Albanese will be teaching again.
Classes will be held August 7-11 in Father O'Hara Hall.
---
Parish Mission: Christ, in the Eucharist—Presence and Reality

Father Robert Lacombe will lead our Parish Mission this Lenten season with inspiring talks on "Christ, in the Eucharist—Presence and Reality." Join us each evening Monday, March 20 through Wednesday, March 22 for a Mass and Mission talk and explore the great gift of Eucharist. Each evening will begin with confessions from 6–6:30 p.m., followed by Mass, and then Father's talk.  Each night's topic will be:
Monday, March 20: Presence and Sacrifice: The Eucharist in the Bible and the Fathers of the Church
Tuesday, March 21: Heaven on Earth: Eucharistic Miracles in Church History
Wednesday, March 22: The Medicine of Immortality and the Four Last Things
Father Robert Lacombe, ordained June 1, 1991, completed graduate studies in Biblical Theology and Patristics from the Catholic University of Louvain with the distinction of summa cum laude. In his 31 years of ministry he has served as a parish priest, hospital chaplain, and special lecturer in the Department of Theology at Providence College. He presently serves at St. Joan of Arc in Cumberland and the Cathedral of Saints Peter and Paul in Providence.
PASTOR'S CORNER:  ALLELUIA … HE IS RISEN!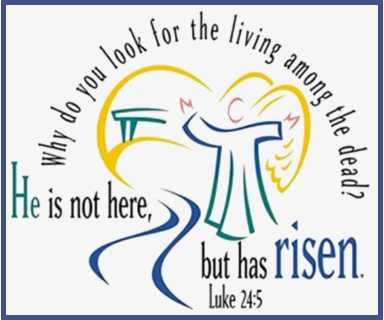 May 1—The empty tomb and the startled disciples say it all. The One who was slain lives again and lives forever. This weekend after 40 days of Lenten sacrifice, prayer and charity we celebrate with joy the event that changed all of history—the resurrection of Jesus of Nazareth, the carpenter turned preacher turned Savior. From Ash Wednesday until this weekend, we have celebrated our faith with vigor. Many thanks to those who have made all our celebrations occasions of faith. A special note of thanks to Bryan and Patti Lou; and Paul and Kelly for providing such beautiful music this weekend and throughout Lent. Of course, a special note goes to both our adult and children's choirs that last weekend and this weekend lifted our hearts to the Risen Savior. Our gratitude to all of you for your generosity, as usual, to last weekend's Rice Bowl collection which assists the poor and needy around the globe, and also for this weekend's Easter collection which is added to our Catholic Charity amount. We are very close to our goal of $75,500 and with your kind assistance we can reach—and exceed—this goal that helps our Diocese tend to the poor and needy right here in Rhode Island. If you have not made your gift or pledge just grab an envelope at the doors of the church and add your gift to this historic and generous amount.  The beauty of our church for the Easter season is the result of the hard work of so many on our decorating committee and we thank them, and also Ray Hattoy and Hattoy Nurseries, for the beautiful flowers that grace our sanctuary. Your generosity to the Easter flower collection made it all happen. Those envelopes with the names of your loved ones are by the Risen Christ shrine and will be remembered at all of our Masses this entire Easter Season. May they rest in peace and be forever with the Risen Lord of life. Now the 40 days of Easter begins … Alleluia!
God bless and have a great Easter week.  —Fr. Bob Marciano
---
may 1—Where there's smoke there's fire. Last Thursday [April 21] night there were both in the kitchen of Fr. O'Hara Hall as I received a call from the Warwick Fire Department that the church fire alarms had gone off. Warwick's bravest came quickly to discover that an accidental fire had ignited on the stove to set off the fire alarms and the flames were extinguished by the automatic system above the stove. I am glad to report that no one was injured and the quick action of our fire department and the state fire marshal made sure that the building was safe. The smoke and fire damage is serious and the kitchen and our bingo will be closed for a few months. I am glad to report that there was just minimal smoke damage to the hall. Catholic Mutual Insurance covers the loss.
Fr. Bob Marciano, Blessing of the Fleet Sat., June 18 Harbor Lights Docks C and D

St. Kevin Christmas Concert
Friday, December 16 at 7 p.m.

The St. Kevin Music Ministry invites you to our free annual Christmas concert. Our music ministry, including both adult and children's choirs, will be joined by choirs from St. Timothy and St. Rita parishes, and the Bishop Hendricken Young Men's Chorus as well as some special guests and a visit from Santa. Come celebrate the season with a wonderfully uplifting evening.

It's that time of year

As the tax filing season approaches, you can request a statement of contributions from Saint Kevin for the year 2022 by COMPLETELY downloading and filling out this form and placing it in the collection basket. If you contribute online you can download your statement at parishgivingonline.com (below). Our sincere thanks for you gift each week and on special occasions of charity that helps to keep our parish fiscally sound.

| | |
| --- | --- |
| | Registration for Saint Kevin School is now open. Register online now or call the school for more information. Classes are filling up and there are waiting lists for some grades. Give your children or grandchildren the gift of a Catholic school education of faith, excellence and service here at Saint Kevin School. |